Forex Rebate Calculator
Our Forex Rebate Calculator will calculate the cashback amount in money terms, based on your trading activity with your broker..

What is Forex Cashback?
Forex Rebates (or Forex Cashback) is profit you can generate by getting part of the costs associated with your Forex trading account such as commissions and spreads. The rebates are paid back into your trading or rebate account in the form of cashback.
It is the simplest way of increasing your forex profit or reducing your trading cost.
You can receive rebates by connecting your existing trading account with a rebate provider (or opening a new one) which in turn receives rebates and pays back the majority of the cashback back to you, the forex trader.
How does it work? When you sign up for a rebate service, it is assigned as your IB (introducing broker) - the broker pays to the IB for the generated trading volume and trading commission and most of these profits are used to pay your cashback.
Does Forex Rebate increase my trading conditions?
No. Whether you've opened the account directly with the broker or through a rebate service, trading conditions (swaps, spreads and commissions or any other associated fees) must remain the same (if not, please check with the rebate provider or your broker).
This is why it is always beneficial to use a rebate provider when selecting a broker to trade with.
Rebates are available with almost every forex broker but each cashback service might support a different list of brokers.
What is a Forex Rebate Calculator?
A Forex rebate calculator will easily illustrate the amount of profit or savings you can based on your trading activity.
Example for forex cashback rate:

Based on the above figures, it is really hard to understand the amount of money you can receive, however when you input your trading parameters, you immediately get the result: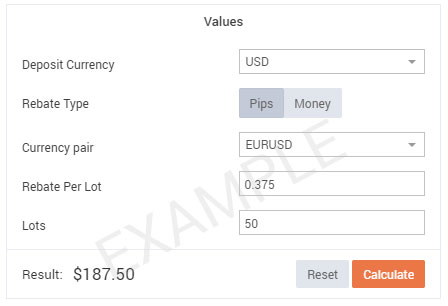 So with a USD account, trading the EURUSD with a 0.103 rebate per lot and a total of 50 lots, you can profit $51.5 in Cashback!
How to use the Forex Rebate Calculator?
Simply input the required fields:
Deposit Currency - your accounts currency which can be AUD, CAD, CHF, EUR, GBP, JPY, NZD, or USD


Rebate type - the rebate can be calculated by either pips or money values. For example a cashback can be $2 per each traded lot or 2 pips per each trade..


Currency pair - the traded currency pair of your choice..


Rebate per lot - the rebate value of the type selected above..


Lots - how many lots do you usually trade. This depends which timeframe are you looking to calculate. If you wish to calculate monthly rebate then provide the total monthly volume in lots, in case of weekly rebate provide the total weekly volume in lots and so on..
What is the best Forex Rebate Provider?
There are many Forex rebate providers however we recommend using our in-house (obviously!) cashback service, loved by millions of traders.
When looking for the best Forex cashback service, don't forget to check the rates for the different instruments, the reporting methodology, withdrawal options and customer service.
The highest rebate rate is not the only factor, especially when you have no transparency of the rebates you are due (for example delayed or missing reports).
Did you know? Paybackfx was the first forex cashback provider to offer real-time* reports for your trading! This means that once a trade is closed, its rebate is immediately reported in your Paybackfx account
*With supported brokers.
If you have decided you wish to receive Forex Cashback, please go here to connect your trading account:
https://www.paybackfx.com