ADS Securities London
Forex Contest ADS Securities

Prize places
3
Prize pool
$5,000

Contest Starts
Jul 21, 2016, 08:00 AM
Contest Ends
Aug 20, 2016, 08:00 AM
registrations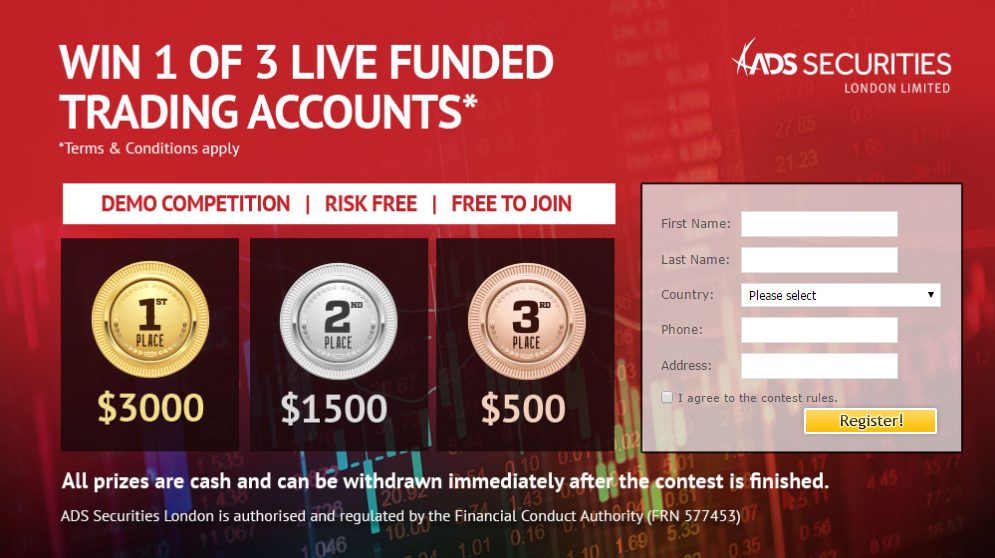 1. This document sets out the Terms applicable to the Competition.
2. The Competition is available to entrants who: i) are not existing clients of ADS; and ii) apply for and successfully open a Demo Account during the Competition Dates.
3. In order to be eligible for a Prize, you must be over 18 years of age and complete the Demo Account application on the Website with your: i) full name; ii) current residential address; iii) valid phone number; and iv) valid e-mail address.
4. On the Competition End, ADS will:
i) capture your Demo Account's equity value;
ii) determine three (3) winners of the Competition; and
iii) verify that such winners have provided accurate contact details in their Demo Account application.
5. The winners may be eligible for a Prize and will be determined based on the entrant with the highest total return (percentage gain), calculated using this formula:
(equity value – deposit applied by ADS) / starting equity value ("deposit") X 100 = % Profit
Example: The deposit applied to the Demo Account is USD100,000 and the equity value at Competition End is USD112,200, the deposit will be deducted from the equity value and the profits made are USD12,200. The profits will be divided by the deposit and multiplied by 100 in order to obtain the profit percentage: USD12,200 / USD100,000 x 100 = 12.2% profit.
6. In the event that 2 entrants have the same percentage in profit ADS will look at the profit factor to identify the winner.
7. The winners' names will be announced on the Website and notified by e-mail within ten (10) calendar days of the Competition End. In order to claim the Prize, the winners must apply for a Live Account using the same details as were used in the Demo Account application within ten (10) calendar days of the date of the e-mail notification.
8. ADS will apply the Prize to the respective Live Account.
9. If a winner rejects their Prize or the entry is invalid or in breach of these Terms, the winner's Prize will be forfeited and ADS shall be entitled to select another winner.
10. The winner may be required to take part in any public or promotional activity related to the Competition and the winner shall participate in such activity on ADS' reasonable request.
11. Entrants are restricted to one (1) Demo Account. Any entrant that attempts to utilise or utilises more than one (1) Demo Account will be immediately disqualified from the Competition. Joint entries or entering on behalf of another person will not be accepted.
12. You will be deemed to have received, read, understood and accepted all Terms by your participation in the Competition.
13. By submitting your personal information you agree to receive phone calls and emails from ADS containing offers and developments that we think may interest you. You will have no obligation to speak to us further and will be given the opportunity to unsubscribe in every email that we send.
14. ADS reserves the right, at its sole and absolute discretion to:
i) determine breaches, manipulation and/or instances of abuse of the Competition;
ii) disqualify any individual that breaches the Terms, abuses or attempts to abuse, tampers or attempts to tamper with the Competition;
iii) deny any Prize for any breach, potential breach, abuse, potential abuse, tampering and/or potential tampering of the Competition or otherwise;
iv) cancel, amend or correct transactions which have been executed at a rate or price which differs from the prevailing market rate or price at such time (an "Off-Market Trade");
v) disqualify entrants who trade on an Account which contains funds obtained from an Off-Market Trade;
vi) reject any account or account application for any reason; and
vii) alter, amend, suspend or terminate the Competition, or any aspect of its Terms, at any time without prior notice.
15. ADS will provide notification of such changes to the Competition on the Website. All the entrants will be immediately bound by such changes. Any dispute or situation not covered by the Terms, the conduct, results and any other matters relating to this Competition, will be resolved by ADS in a manner ADS deems to be the fairest to all concerned; that decision shall be final and binding on all parties.
16. If the Terms are translated into a language other than English, then the English version of the Terms shall prevail where there is an inconsistency.
17. The Competition is:
i) non-transferrable and cannot be combined with any other competition or promotion offered by ADS or any of its affiliates;
ii) not intended for distribution to, or use by, any person or entity where such Competition would be prohibited or restricted by applicable law or regulation;
iii) void where prohibited or restricted by applicable law or regulation;
iv) governed by laws of England and Wales and is subject to the exclusive jurisdiction of the English courts;
v) not open to employees, affiliates, subsidiaries, officers, or agents of ADS or any member of their immediate family or persons living in the same household.
18. The Participant agrees to hold harmless ADS and its affiliates, shareholders, parent companies, subsidiaries, officers, employees and agents, from any and all liabilities for any loss, damage, costs and/or expenses of any kind, including legal fees, arising from or in connection with this Competition and/or the Prizes.
19. ADS accepts no responsibility for any damage, loss, liabilities, injury or disappointment incurred or suffered by you as a result of: i) entries that are lost, delayed, misdirected or incomplete or cannot be delivered or entered for any technical or other reason; ii) entering the Competition; or iii) accepting the Prize.
20. Defined terms:
'ADS' means ADS Securities London Limited.
'Competition' means a trading competition on a Demo Account offered by ADS.
'Competition Dates' means the period from 08:00 GMT on 21 July 2016 and ending at 08:00 GMT on 20 August 2016.
'Competition End' means 08:00 GMT on 20 August 2016.
'Demo Account' means a demo ADS MetaTrader 4 Standard, Spread Betting or ECN trading account opened on the ADSSecurities-Demo2 server.
'Live Account' means a live ADS MetaTrader 4 Standard, Spread Betting or ECN trading account on the ADSSecurities-Live2 server, which has been approved by ADS' compliance team.
'Platform' means the MetaTrader 4 platform.
'Prize' means a free, non-exchangeable, non-transferrable amount, based on the profit percentage on the Demo Account captured at Competition End and structured as follows:
| PLACE | PRIZE |
| --- | --- |
| 1st | USD3,000 EUR2,650 GBP2,050 |
| 2nd | USD1,500 EUR1,320 GBP1,020 |
| 3rd | USD500 EUR440 GBP340 |
'Terms' means these terms and conditions (as amended from time to time).
'Website' means any website of ADS or MyFxbook Ltd at any time.
Contents and prizes offered should not be considered as an incentive to trade. Only partake in the trading contests when you feel you ready to trade.