Fidelis Capital Markets
Forex Contest Fidelis Capital Markets

Prize places
3
Prize pool
$5,000

Contest Starts
May 01, 2015, 07:00 AM
Contest Ends
May 31, 2015, 07:00 AM
registrations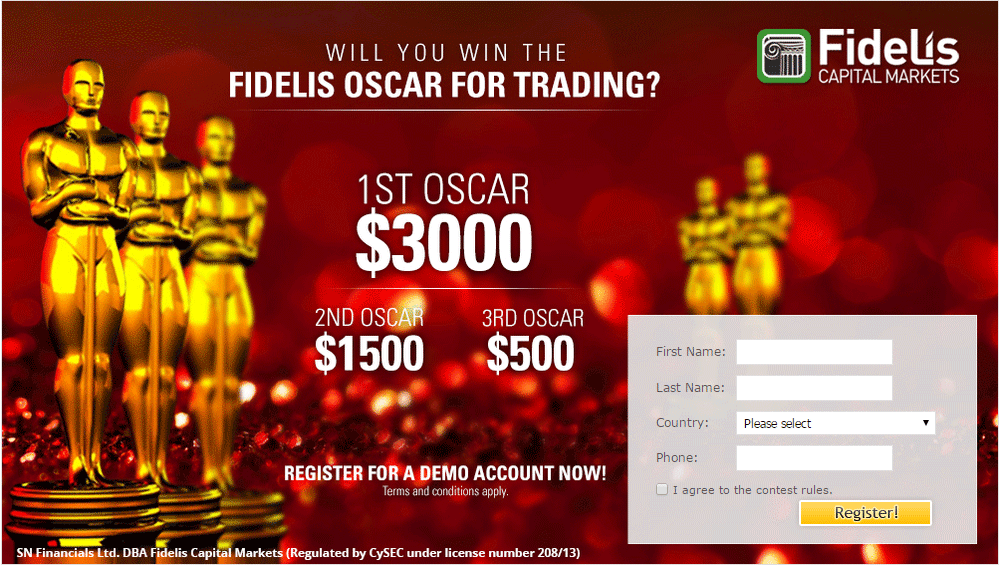 The contest starts on 1st May until 31st May 2015.
Registration for the Contest ends on 31st April.
Registration for this Contest / and/ or entry in the Contest constitutes your agreement to these Rules and you will not be eligible for the prize unless you agree to these Rules.
Every entrant must be at least 18 years of age.
Fidelis Capital Markets reserves the right to refuse any person as an entrant.
Every entrant is allowed to have one Contest demo account ONLY. More than one Contest demo account is grounds for disqualification.
Throughout the Contest the leverage shall not exceed 200:1.
The Contest will not allow more than a total of 500 open positions at any given time
Participants can only trade during the duration of the Contest.
Participants can choose to opt out of the Contest before and during the Contest. Opting out disqualifies you immediately from the Contest.
Any kind of arbitrage trading or any other abuse with pricing and / or quotes will be subject to disqualification from the Contest.
Fidelis Capital Markets has the sole discretion to disqualify any participant or winner found in violation of the Contest Rules.
Fidelis Capital Markets reserves the right, in its sole discretion, to amend these Rules. If the participant does not accept any amendment to these Rules they can withdraw from Contest.
Contest Prizes
The total prize fund of the Demo Contest is $5,000

1st Prize equals to $3,000 funded in a Fidelis Capital Markets live account
2nd Prize equals to $1,500 funded in a Fidelis Capital Markets live account
3rd Prize equals to $500 funded in a Fidelis Capital Markets live account

The 3 Contest winners are those participants with the highest rate of return during the Demo Contest.
In the case of two or more contest winners having equal balances at the end of the Contest, they will share the prize equally
The Fidelis Capital Markets live account will be funded within 5 business days of the prize notification.
To receive a Fidelis Capital Markets live account, your account application will undergo the normal account opening procedure and you have to submit proof of identity and residence for verification.
Providing fake data may result in disqualification from the Demo Contest.
Prizes are non-transferable and no cash alternative is available. No prize transfer, assignment or substitution by winners is permitted.
By winning the Fidelis Capital Markets contest prize, you accept to participate in various promotional events that will be publicly announced in various websites, including the Fidelis Capital Markets website and its other Social media sites.
Prize Notification: Prize winners will be notified by e-mail. In the event that the selected winner (s) of any prize is/are ineligible, cannot be traced or does not respond within ten (10) calendar days, rejects the prize, or does not, within twenty (20) calendar days of prize notification and in Fidelis Capital Markets' sole discretion, qualify for a live trading account with Fidelis Capital Markets or any of its subsidiaries, the prize will be forfeited and Fidelis Capital Markets, in its sole discretion, may choose whether to award the prize to another participant.
Withdrawal of Prizes Policy
Funds deposited by Fidelis Capital Markets as a Prize can be withdrawn any time after the completion of account verification.
All open positions will be liquidated when the Contest ends.
Should you request a Withdrawal before the end of the Contest, your eligibility for the Contest will be disqualified and cancelled.
Each Demo account starts with a virtual amount of $10,000 and a leverage of 200:1.
In the event of a dispute, all decisions made by Fidelis Capital Markets will prevail and be final.
Conditions and Limitation of Liability
Jurisdiction: Entrants agree that this Contest is subject to and governed by the Laws of the Republic of Cyprus.
Right to Terminate Contest-Fidelis Capital Markets reserves the right to delay, suspend or terminate this Contest at any time, without prior notice and without liability to the participants.
Fidelis Capital Markets is a Cyprus investment firm regulated by CySEC under licence 208/13 and based in Cyprus.
Risk Warning
Trading in foreign exchange carries high speculation and involves substantial risk. FX trading may not be suitable for all investors; even the most experienced traders can experience substantial losses. Before deciding to trade with such leveraged products as FX and CFDs are, we suggest that you seek independent financial advice.
Contents and prizes offered should not be considered as an incentive to trade. Only partake in the trading contests when you feel you ready to trade.