Prize places
2
Prize pool
$5,000

Contest Starts
Nov 03, 2014, 13:00 PM
Contest Ends
Dec 02, 2014, 00:00 AM
registrations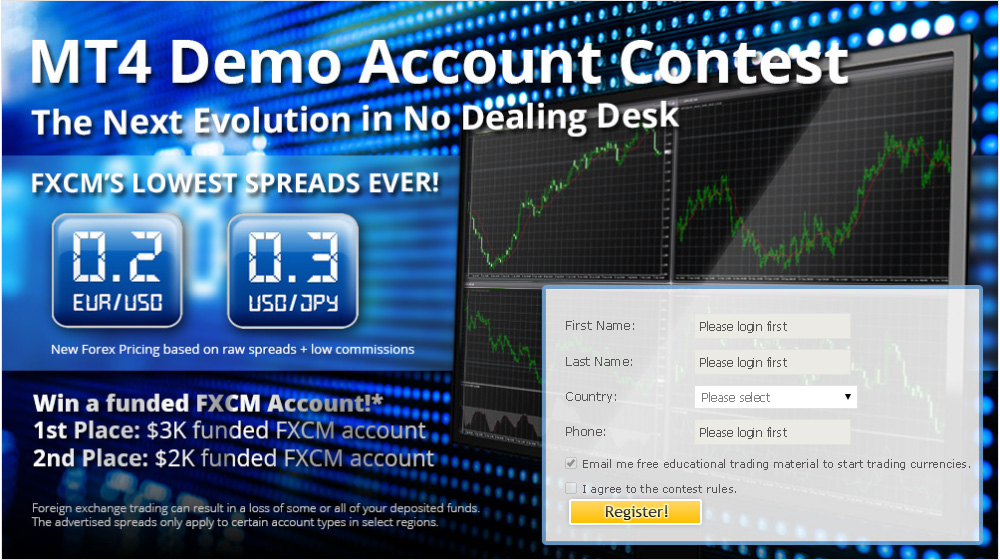 In order to enter (the "Contest"), you must agree to the following terms and conditions set forth on this page (the "Rules"). Because you will be bound by these Rules and these Rules will form a legally binding agreement with respect to this Contest, please read them carefully. You may not enter the Contest and you will not be eligible for the prizes described in these Rules unless you agree to these Rules. You agree that registration for this Contest and/or entry in the Contest constitutes your agreement to these Rules.
Individuals at least 18 years of age or older, may participate in the Contest. FXCM reserves the right to refuse any person as an entrant
Residents of OFAC sanctioned countries are not eligible to win the prizes.
All former and current employees of Forex Capital Markets, LLC, and each of its affiliates and subsidiaries (collectively, "FXCM") and such employees' immediate family members and persons with whom such employees are domiciled are prohibited from participating in the Contest.
$5,000 in total prizes will be given out. A $3,000 real funded FXCM account will go to first place and a $2,000 real funded FXCM account will go to second place. In order to receive a live funded account with FXCM, the participant's account application will undergo approval process by FXCM. In the event that the live account is not approved, FXCM will give out the prizes in the same amounts to the next contestant with the highest ending equity. The winners are allowed to withdraw money without restrictions.
By accepting a prize, each winner agrees that they are responsible for all applicable taxes associated with such prize including but not limited to any income, profits and gains and any other tax, duty, contribution, levy or charge in the nature of tax of any nature, whether domestic or foreign, federal or state.
The Contest starts at 09:00 AM (Eastern Time) on Monday, November 3rd, 2014 and ends at 17:00 PM (Eastern Time) on Monday, December 1st, 2014.
Registration ends at 09:00 AM (Eastern Time) on Monday, November 3rd, 2014.
Every participant is allowed to have only one competition demo account. More than one demo account is grounds for disqualification.
A demo account must be opened with FXCM UK. (Use ONLY the above sign up form to have an account issued to you automatically). To provide equal opportunity to all eligible participants, the contest will be conducted using FXCM UK's MT4 demo trading platform that provides functionalities and access to products that may be unavailable or restricted depending on a trader's residence.
Each participating demo account starts with a $50,000 balance and a 200:1 leverage. Demos are blocked from trading before the competition starts. No trade restrictions. All strategies are permitted. Scalping permitted. No restrictions on placing SL, TP or Pending Orders. Partial closing allowed. Trade 0.01 lots.
For additional resources on margin requirements, available products and other info, please refer to the following links:
http://www.fxcm.com/uk/platforms/metatrader-4/benefits-fxcm-mt4/
http://www.fxcm.com/uk/support/faq/margin-requirements/
http://www.fxcm.com/uk/legal/trading-execution-risks/#MT4-execution
http://www.fxcm.com/uk/markets/overview/
For any additional questions, please contact

[email protected]

To be eligible for participation, you must be willing to let your name, and demo account trading record for the time period of the contest be published and/or distributed by FXCM, its agents, subsidiaries, successors and Myfxbook during and after the life of the contest. Any personal information, including without limitation, the your name, age, address (including postcode), telephone number and/or email address (Personal Data) will be used (i) in connection with the Contest which you entered, (ii) for any purpose to which you gave your express consent on entry (iii) as set out in these Contest Rules . Your Personal Data will not be disclosed to any third party, except for the purpose of fulfilling the prize(s) where applicable unless you gave your express consent to this on entry.
Winners (top 2) are those with the largest demo account equity at the end of the contest period, after liquidation.
Correct contact details must be provided in order to claim your prize. Failure to do so may result in disqualification.
Traders can choose to opt out from the contest before and during the contest. By not opting out, you are subject to the contest's rules. Opting out will disqualify you from the contest. To opt out, please contact MyFXbook directly.
FXCM has sole discretion in determining whether a client's deposit and/or trading activity entitles them to retain the prize credit.
FXCM has sole discretion to disqualify any entrant, participant or winner found in violation of these contest rules or if FXCM determines that such action is reasonable or necessary.
To the maximum extent permitted by law, you indemnify and agree to keep indemnified FXCM at all times from and against any liability, claims, demands, losses, damages, costs and expenses resulting from any act, default or omission by you and/or a breach of any representation and warranty by you set forth herein. To the maximum extent permitted by law, you indemnify and agree to keep indemnified FXCM at all times from and against any liability, actions, claims, demands, losses, damages, costs and expenses for or in respect of which FXCM will or may become liable by reason of or related or incidental to any act, default or omission by you under these rules including without limitation resulting from or in relation to any breach, non-observance, act or omission whether negligent or otherwise, pursuant to these Rules by you. To the maximum extent permitted by law, you agree to hold FXCM, its directors, officers, employees and assigns harmless for any injury or damage caused or claimed to be caused by your participation in the Contest and/or use or acceptance of any prize won.
To the extent permitted by law, the rights to litigate, to seek injunctive relief or to any other recourse to judicial or any other procedure in case of disputes or claims resulting from or in connection with this Contest are hereby excluded, and you expressly waive any and all such rights. Notwithstanding the foregoing, unless otherwise agreed, these Rules and their enforcement are governed by the laws of the state of New York, without regard to principles of conflicts of law, and shall inure to the benefit of FXCM's successors and assigns, whether by merger, consolidation, or otherwise.
FXCM reserves the right, in its sole discretion, to amend these Rules, including extending the trading period, postponing the starting date, adding prizes, adding bonuses, and/or canceling or suspending part or this entire Contest at any time by posting such amendments to these Rules online. If the entrant does not wish to accept any amendment to these Rules, the entrant's sole remedy is to withdraw from the Contest.
If any provision(s) of these Rules are held to be invalid or unenforceable, all remaining provisions hereof will remain in full force and effect.
Unless the context otherwise requires, references to any gender include all genders and use of the singular includes the plural and vice versa.
Please note that demo accounts are based on simulated conditions. Though MetaTrader 4 demo accounts attempt to replicate real-time market scenarios, there are key differences that distinguish it from a live account; including, but not limited to, the lack of dependence on real-time market liquidity. In addition, MetaTrader 4 demo accounts may not reflect execution criterion required by the regulatory authorities of forex in the United States and may impair results achieved in a live scenario. The functionalities and/or products available with MT4 may include, but are not limited to, the ability to Hedge, trade Contract for Differences (CFDs), and not limited to using just First In First Out (FIFO) trade allocation methodology.

FXCM is an independent legal entity and is not affiliated with Myfxbook. FXCM does not endorse any product or service described on this website. FXCM has not reviewed or verified any performance results presented on this website that does not pertain to the FXCM MT4 Demo contest. Contests and prizes offered should not be considered as an incentive to trade. Only partake in the trading contests when you feel you ready to trade

High Risk Investment Warning: Trading foreign exchange on margin carries a high level of risk, and may not be suitable for all investors. The high degree of leverage can work against you as well as for you. Before deciding to trade foreign exchange you should carefully consider your investment objectives, level of experience, and risk appetite. The possibility exists that you could sustain a loss of some or all of your initial investment and therefore you should not invest money that you cannot afford to lose. You should be aware of all the risks associated with foreign exchange trading, and seek advice from an independent financial advisor if you have any doubts.
Contents and prizes offered should not be considered as an incentive to trade. Only partake in the trading contests when you feel you ready to trade.