SquaredFinancial
Forex Contest Squared Financial

Prize places
3
Prize pool
$5,000

Contest Starts
Feb 03, 2015, 09:00 AM
Contest Ends
Feb 28, 2015, 00:00 AM
registrations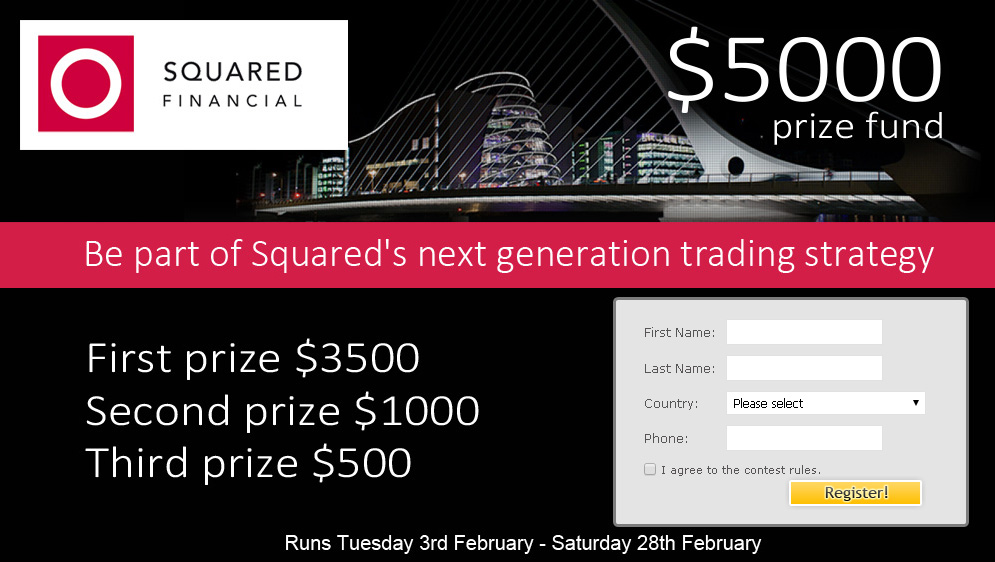 To enter (the "Contest"), you must agree to the following binding rules
Registration for this Contest and/or entry in the Contest constitutes your agreement to these Rules and you will not be eligible for the prizes unless you agree to these Rules
You must be at least 18 years of age in order to participate in the Contest
Squared Financial ('Squared') reserves the right to refuse any person as an entrant
Contest registration ends at 09:00 on Monday 2nd February 2015
The Contest starts at 09:00 (Dublin Time) on Tuesday, 3rd February, 2015 and ends at midnight on Saturday, February 28th, 2015
The prize fund breakdown is:

1st Price $3,500 funded Squared live account
2nd Prize $1,000 funded Squared live account
3rd Prize $500 funded Squared live account

To receive a funded Squared live account your account application will undergo the normal Squared account opening process
The Squared live account will be funded within 20 calendar days of prize notification
Withdrawal of Funds: Funds deposited by Squared as a prize can only be withdrawn 30 days after the date of deposit.
No Alternatives: Prizes are non-transferable and no cash alternative is available. No prize transfer, assignment or substitution by winners is permitted.
Squared may use its sole discretion to determine whether a Contestant's trading activity entitles them to the prize
Each participant is allowed only one Contest demo account. More than one demo account is grounds for disqualification.
Each participating demo account starts with a $50,000 balance and a 200:1 leverage
Demo accounts will not be able to trade until the Contest starts on the above stated date.
Participants can choose to opt out from the Contest before and during the contest.
Opting out disqualifies you from the Contest and to opt out you must contact Myfxbook directly
Squared has sole discretion to disqualify any participant or winner found in violation of the Contest Rules.
Squared reserves the right, in its sole discretion, to amend these Rules. If the participant does not accept any amendment to these Rules they can withdraw from the Contest.
Any kind of IP match will be subject to disqualification.
Any kind of arbitrage trading or any other abuse with pricing and/or quotes will be subject to disqualification from the Contest.
Myfxbook reserves the right to reject or disqualify any participant.
Contents and prizes offered should not be considered as an incentive to trade. Only partake in the trading contests when you feel you ready to trade.