FXOpen Markets Limited
Forex Contest October 2010 FXOpen

Prize places
3
Prize pool
$3,500

Contest Starts
Oct 25, 2010, 12:00 PM
Contest Ends
Nov 25, 2010, 12:00 PM
registrations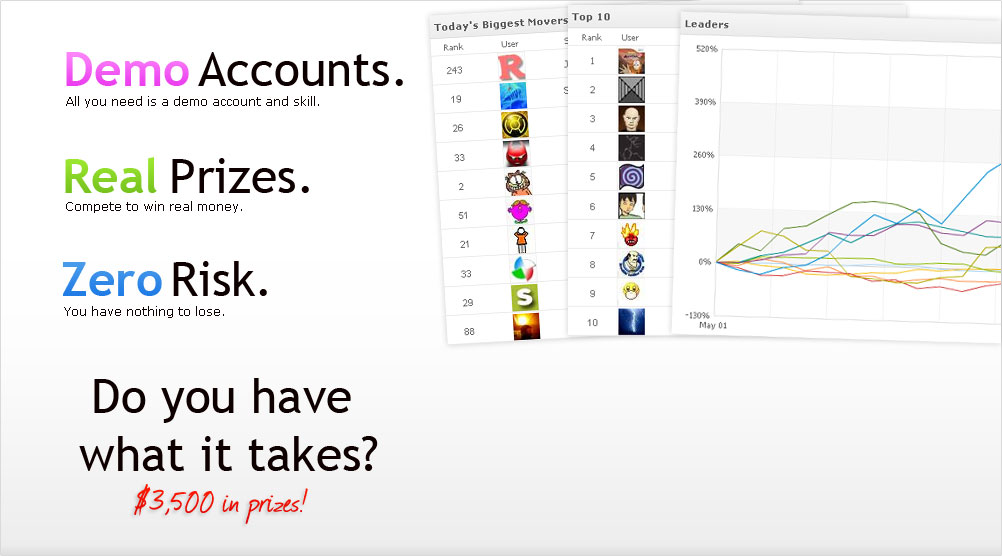 $3,500 in total prizes will be given out. $2,000 for first place, $1,000 for second place and $500 for third place.
The contest starts at 10/25/10 07:00 EST and ends at 11/25/10 07:00 EST (a duration of 1 calendar month).
Registration ends at 10/23/10 07:00 EST (2 days prior to the contest start date).
Every participant is allowed to have only one competition account.
A demo account must be opened with FXOpen (use the link provided after registration or below) and be connected to Myfxbook.
Participating accounts start each with a $100,000 balance. Accounts are blocked from trading before the competition starts.
All traders must be willing to let their trading record (of the contest) be publicly published during and after the contest.
All open positions will be liquidated at the end of the contest automatically.
Winners (top 3) are those with the highest percentage gain at the end of the contest period, after liquidation.
Correct contact details must be provided in order to claim your prize.
Traders can choose to opt out from the contest during and after the contest. By not opting out, you are subject to the contest's rules. Opting out will disqualify you from the contest. To opt out, please contact us.
FXOpen may use its sole discretion in determining whether a client's deposit and trading activity entitles them to retain the prize credit.
Registration:
Register at the following link: Registration is now closed!
Connect the account to your Myfxbook portfolio.
All money in USD. All rights reserved, FXOpen. © 2005-2010
HIGH RISK WARNING: Foreign exchange trading carries a high level of risk that may not be suitable for all investors. Leverage creates additional risk and loss exposure. Before you decide to trade foreign exchange, carefully consider your investment objectives, experience level, and risk tolerance. You could lose some or all of your initial investment; do not invest money that you cannot afford to lose. Educate yourself on the risks associated with foreign exchange trading, and seek advice from an independent financial or tax advisor if you have any questions.
Trading on the Forex market involves substantial risks, including complete possible loss of funds and other losses and is not suitable for all members. Client should make an independent judgments as to whether trading is appropriate for him/her in light of his/her financial condition, investment experience, risk tolerance and other factors.
Contents and prizes offered should not be considered as an incentive to trade. Only partake in the trading contests when you feel you ready to trade.