Notification when there's no open trades?
Hi,
1. Yes exactly. In fact with the notifications turned on, you should get a notification straight away showing the trade status, So if there are no trades you will get a 'All Trades Closed' message. If there is a trade open it will tell you that a new trade is open.
2. The EA will tell you 2 things :-
a. When you go from 1 trade(or more) to no trades at all, and;
b. when you go from no trades at all to 1 trade or more(it only reports the first trade).
You can disable the notifications that you don't want, so if you don't want to be notified of a new trade, then select 'New_Trade_Alert' to false.
I don't have an EA to report on the close of any one trade. The detection of individual trades is a far more complex algorithm than simply telling if an your order total is 0 or more than zero.
If you want individual trade notifications just select the tickbox in the notifications dialogue, as per this screenshot :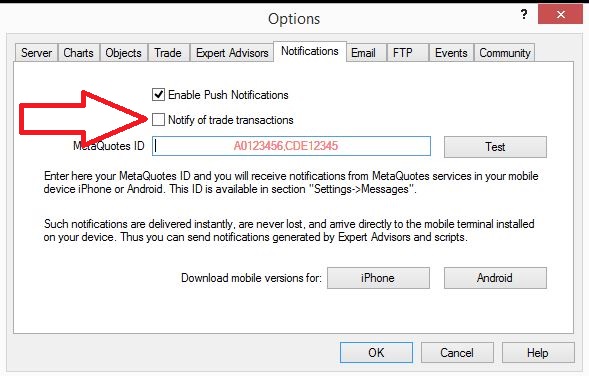 ---
Attachments:

No_Trade_Alert_4p.mq4
Wealth Creation Through Technology
*Commercial use and spam will not be tolerated, and may result in account termination.
Tip: Posting an image/youtube url will automatically embed it in your post!
Tip: Type the @ sign to auto complete a username participating in this discussion.