Excel Markets
Forex Contest Excel Markets

Prize places
10
Prize pool
$10,000

Contest Starts
Sep 15, 2013, 08:00 AM
Contest Ends
Oct 15, 2013, 08:00 AM
registrations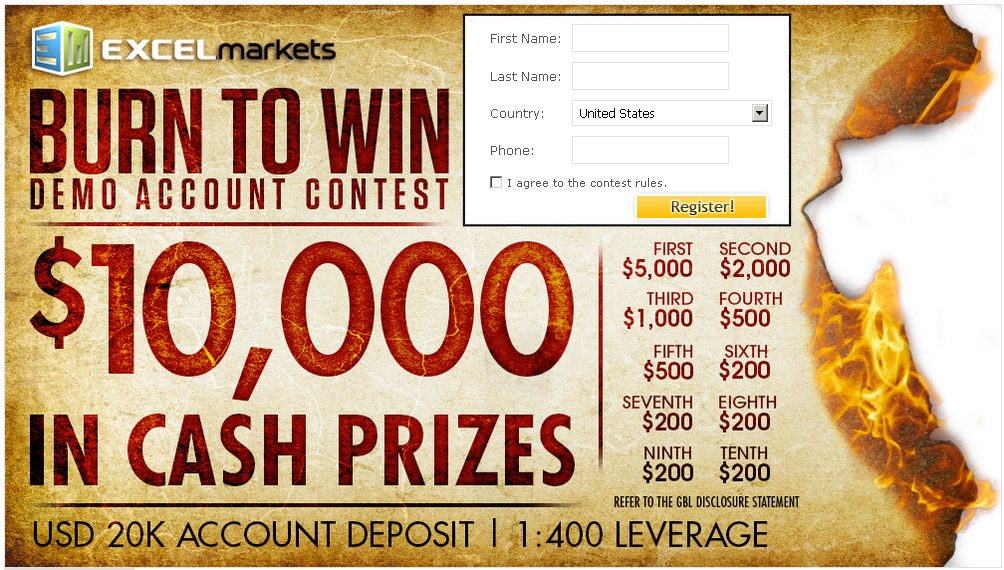 Contest Duration: Signup period: September 1st to 14th; Contest: September 15th to October 15th
How to Participate: To participate in the Contest, each entrant must follow the instructions on (www.myfxbook.com) and create a Contest demo account ("Account") provided by Excel Markets. Every entrant is allowed to have one (1) Account only. Trading will be disabled until the beginning of the Contest and will start with a balance of 20,000 USD in virtual funds (demo).
Prizes: The total prize fund amounts to 10,000 USD and will be distributed among the top ten (10) winners as follows: - First Prize: 5000 USD - Second Prize: 2000 USD - Third Prize: 1000 USD - Fourth Prize: 500 USD - Fifth Prize: 500 USD - 6 - 10 Prizes: 200 USD
Contest Cheating Excel Markets will not tolerate contest cheating, which includes - but may not be limited to -trading with multiple account and/or scalping on prices that may not be available on a live feed due to latency and execution differences between real and live trading. Please see Rule 8 below and note that trades with a very short duration (< 2 minutes) may lead to disqualification.
Rules On the Metatrader client terminal, you will login to the server 'ExcelMarketsNZ-Demo'.
Trading on the platform is disabled until the contest begins. If you are logged into platform when we enable trading, you will need to logout and then login again to be able to trade.
Prizes are in USD Cash, there are no additional requirements to collect the cash prize besides placing in the winning contest ranks. The people with the highest equity gain at the end of the contest win.
There are no drawdown restrictions.
Leverage on all accounts will be set to 1:400 for the duration of the contest with margin stop outs set to 100% of required margin. Your opening, simulated trading balance for this contest will be set to $20,000 USD.
Winners will be contacted after the contest ends by registered email address to collect payment details.
Terms and rules may change at any time. Myfxbook, Excel Markets, and any other party involved in the running of the forex trading contest will not be liable to any other party for any consequential, indirect, special, incidental, punitive damages, or any damages or compensation of any kind.
Any participant intentionally hitting the demo price feed off market will be disqualified. We only review the trading activity of winners at the end of the contest to decide whether contestant will be disqualified. If we cannot be reasonably sure gains are not largely due to the low slippage of a demo account the account is likely to be disqualified, therefore accounts with many trades open for a very short period (1-2 minutes) will likely be disqualified. Unfortunately there is no 'perfect' way to moderate a demo trading contest and ensure no cheating, but if we do not implement these rules it will become a contest of who is the best at cheating, or in other words, taking advantage of latency arb and lack of slippage. Our goal is to give manual traders the same chance of winning as automated traders.
Connecting and registering through public-facing servers (Web servers, VPS etc.) may result in your disqualification. We will not provide specifics about why, and realize this may disrupt some users who use a VPS for trading however at times this could be necessary for the protection of the integrity of the contest, and giving everyone a fair chance.
At contest end, open positions will be marked to market in order to calculate final metrics and placement.
We reserve the right to disqualify any participant at our sole discretion.
It is the winner's responsibility to provide us with payment information. Prizes not claimed within 30 days of contest end will be cancelled.
One entry per household and one IP. We reserve the right to track and enforce this using several tracking methods.
You may change the password on your trading account from the one assigned by default, however you will need to edit your Myfxbook account and input the new password so our system can connect and download your trading records.
Winners will be contacted by email and must provide us with information that will allow us to pay the prize amount by either bank transfer, PayPal, or Skrill/Moneybookers. There is no requirements to furnish identification etc. as prizes are cash and you do not need to open a trading account to collect the prize. Any fees associated with payment will be deducted from winnings. Winners must respond to us within 30 days of contest end date to collect their prize otherwise the prize will become forfeited.
You may continue to trade your Excel Markets account after the contest period ends, Excel Markets demo accounts expire only after 365 days consecutive days of no logins.
If you intend to open a live trading account with Excel Markets, please refer to the Excel Markets Disclosure Statement, Terms and Conditions, and Client Services Agreement. Required Disclaimer: Note that the FMA's role in authorizing futures dealers is limited and this Authorization does not imply the FMA's approval or endorsement of the business, trading, or solvency of GBL, nor has the FMA approved any agreements or disclosure documents of GBL
At the end of the contest please allow up to 5 business days for us to declare winners. We will investigate trading activity of the contestants to ensure it did not violate the contest rules as well as checking if the same user was using multiple logins.
Any employees of Myfxbook or Excel Markets participating in the contest for fun are not eligible for prizes and are precluded from any winning position.
US residents may participate and win the prize as an account does not need to be opened in order to claim the cash prize.
Contents and prizes offered should not be considered as an incentive to trade. Only partake in the trading contests when you feel you ready to trade.