The Pound fell too fast: likely to rebound
Expert market comment from senior analyst Alex Kuptsikevich of the FxPro Analyst Team: The Pound fell too fast: likely to rebound
The British Pound lost ground against the Dollar for the fifth consecutive session, falling below the 1.2200 level. GBPUSD is down 4% since the beginning of the month, when pressure on the Pound intensified, and 7.3% from July's peak.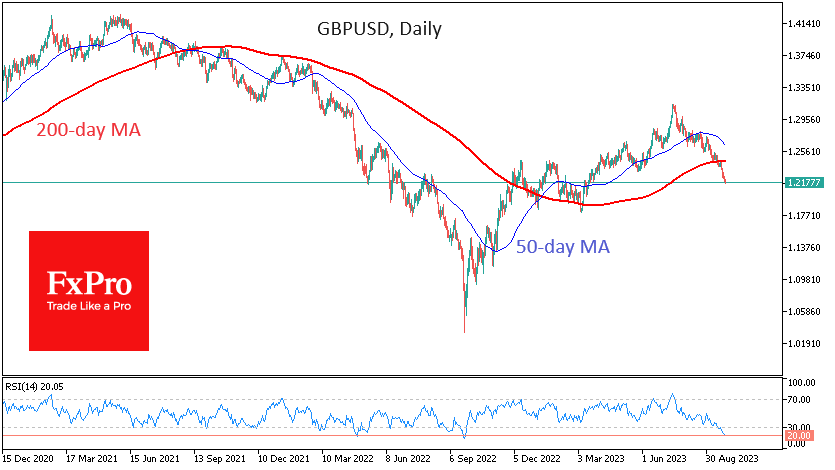 Fundamentally, the latest phase of the Pound's sell-off is due to the Bank of England's softer-than-expected response to the latest inflation report. The technical reason is the break below the 200-day moving average, which has prompted some key market participants to revise their long-term outlook.
The last time the GBPUSD was this oversold on the RSI was about a year ago. This indicator has fallen as low as 20% on a daily timeframe. Last year, it was only lower for three days at the end of September, followed by an impressive reversal.
However, the situation is not directly comparable. Then, there was a real exodus from the Pound, with a fall to historic lows of just over 1.03. The current decline is similar to what we saw in May 2018 or October 2016. GBPUSD then temporarily recovered 40-50% of the initial losses before resuming the downward movement.
From current levels, a corrective bounce in the Pound could take the pair back to 1.2320, an area of previous support with a high probability of becoming resistant. A more ambitious target for the bulls is 1.2430, with a 200-day moving average and two downward reversals, in December and in January.
By the FxPro Analyst Team